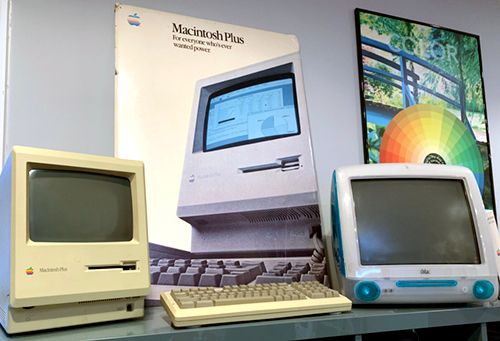 1986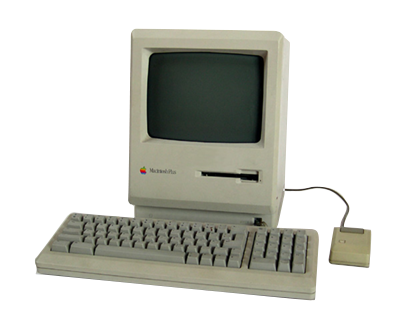 Stop in and see our "museum" with an original Apple Macintosh Plus 128K and Laser Writer printer, using Aldus Pagemaker, Apple MacDraw, MacPaint and Microsoft Word and MultiPlan, all on 3.5 inch floppy disks. (We also have a Bondi Blue iMac.)
Multiplan, powerful spreadsheet software (precursor to Microsoft Excel)
Aldus Pagemaker took advantage of Adobe System's 13 PostScript fonts built into the LaserWriter Plus.
Helvetica, Helvetica Italic, Helvetica Bold and Helvetica Bold Italic; Times, Times Italic, Times Bold and Times Bold Italic; Palatino, Palatino Italic, Palatino Bold and Palatino Bold Italic; Zapf Dingbats
Imagine that! Thirteen different fonts we could typeset right on our Macintosh and print with our Laser Writer Plus! What an exciting time in the world of print!
1987
Adobe Illustrator, a vector drawing program using bezier curves, combining our design and our math skills. Imagine the possibilities!
1990
Photoshop. Adobe gave us vector capabilities, now it gives us a raster editor right here on our Macintosh screens! Wow!
TODAY
For over 32 years, Judi and Bud have worked side-by-side at Laser Letters, a design and print studio. They work with your final objective in mind, crafting the best solution for the quality and impact you need.